Take 2 minutes to read this article
CentricsIT named one of Atlanta's Top Workplaces for second consecutive year
Company direction and execution listed as strengths
ATLANTA, Apr. 23, 2012—For the second year in a row, CentricsIT employees can celebrate working at one of Atlanta's Top 100 Workplaces. The Atlanta Journal-Constitution ranked the enterprise IT solutions provider 34th in the small business category (up four spots from 2011), and the company was one of only 31 companies to rank on both the 2011 and 2012 lists.
CentricsIT was listed in a special section of the Atlanta Journal-Constitution on Sunday, Apr. 22 and is currently profiled on the AJC website. The evaluation for the Top Workplaces program was based on feedback from an employee survey that CentricsIT staff completed in the Fall.
"To rank on the list for two consecutive years is remarkable," said Derek Odegard, President of CentricsIT. "Knowing that we hired 20 more people and still improved our showing by four positions is great motivation to continue cultivating the dynamic culture we have established at CentricsIT. I think I can speak for our entire executive team when I say that there is no accolade we are prouder of."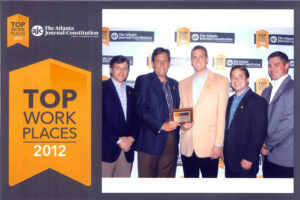 From Left to Right: Derek Odegard, Richard Hans, Pete Bohman, Kevin Raxter, and Ryan Ritter
The Top Workplaces eligibility survey, conducted by Workplace Dynamics, measured values such as work conditions, workplace culture, company leadership, and company direction. CentricsIT achieved high scores for company direction and execution, illustrating the confidence that CentricsIT employees have in the company's future. One anonymous survey response reads, "
[CentricsIT has] a positive and nurturing environment. Everyone makes you feel like they genuinely want you to do well and succeed."
CentricsIT executive leadership attended an awards reception at Cobb Energy Performance Arts Center on Thursday, Apr. 19, where they accepted a commemorative plaque on the company's behalf.
Anyone interested in working at one of Atlanta's Top Workplaces can view current job openings on the CentricsIT career page.