Take 2 minutes to read this article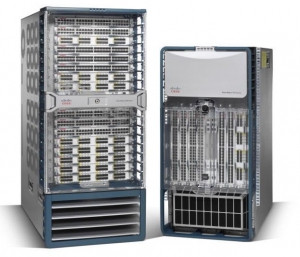 At CentricsIT, we are your IT experts, and here is what we have to say about Cisco's Nexus 5000 and 7000 Series Switches.
Your Needs:
1. I/O Consolidation in the Data Center
2. Reduction of Cabling Requirements
3. Increased Bandwidth without Sacrificing Application Performance
How We See IT
Cisco is renovating its data centers to reflect the company's Data Center 3.0 vision, which utilizes a unified network fabric to unite storage devices and servers while maintaining their resiliency, scalability and ease of use. They positioned the Nexus 5000 and 7000 Series Switches as a platform for this change.
I/O Consolidation in the Data Center
Until recently, Cisco was using a traditional Ethernet switching infrastructure and Fibre Channel Switches (FCoE) at the distribution layer. They are now deploying the Nexus 7000 Series Switches at the 2/3 Layer to consolidate data center I/O from several 1Gbps Ethernet connections and 4Gpbs Fibre Channel connections to two 10Gpbs Ethernet connections. Cisco is doing this by employing in the Nexus 5000 a lossless, low-latency, high-performance switching fabric. Their reasoning is that they wanted to expand port density throughout the network's core and distribution layers by consolidating to 10 Gbps.
Reduction of Cabling Requirements
The consolidation of 1 Gbps to 10 Gbps I/O significantly reduces the number of ports that need to be purchased and managed. Consolidation of the access and distribution layer switches will reduce power consumption, cabling, cooling and space requirements. This will free up extra energy to be used for additional servers, ultimately extending the life of your data center.
Increased Bandwidth Without Sacrificing Application Performance
Cisco's adoption of server virtualization technologies has consolidated servers and improved overall utilization for your data center. It is no secret that a single server that hosts multiple virtual machines will require greater bandwidth. With the Nexus 5000 (N5K-C5548UP-FA) and Nexus 7000 (N7K-C7018) Series Switches, Cisco has successfully increased bandwidth, supported multiple application services, and decreased application response time while maintaining, and even increasing, application performance.
Want More Information?
If your large enterprise has a data center that demands consolidated I/O, reduction of cabling requirements, and increased bandwidth, request a quote from CentricsIT. We know you will be pleased with our pricing versus the OEM and our competitors. Each and every one of the Cisco products distributed by CentricsIT is backed by a Lifetime Warranty so you can rest assured that our certified team of trained engineers will be there to assist if any problem should ever arise.