Take 2 minutes to read this article
As a leader in the IT business, we know it is important to foster the minds and educations of future IT industry leaders. That is why we donated two scholarships and an internship to select student champions of the 2011 Georgia Educational Technology Fair.
Hardware is our business, and we know that it will take bright young minds to continue developing the hardware that runs our global networks. We also believe in the value of robotics. Many significant industries, including agriculture, manufacturing, and medical/surgical science, depend on today's children to break new ground in the robotics field.
This past Saturday, CentricsIT awarded two scholarships at the Georgia Educational Technology Fair at Howard High School in Macon, GA. This was the state-level competition for 3rd through 12th graders. Over 500 students from all over Georgia were selected to compete after placing at the regional level.
We awarded a $2,000 Grand Prize Scholarship and an opportunity to intern here at CentricsIT to the 12th grade winner of the Hardware Category. Additionally, our customers voted on a second award with our Holiday Card. They voted on the Robotics Category, and we awarded a $500 Scholarship to the 12th grade winner of that competition.
We were among the following companies/Organizations as sponsors: Tech Micro, Read Naturally, Georgia Aquarium, World of Coke, ByteSpeed, DocuTeam, Education Networks of Atlanta, Tech4Learning, and LEGO.
Our $2000 Grand Prize winner was Chad, a senior who created a computer that he designed to help with cancer research. Our $500 winner was Sawaiz, a senior who built a robot that can play Guitar Hero by watching via webcam the different colors cross its field of vision. The webcam recognizes the different colors, and then sends a signal to some clothespins that pressed the buttons.
Richie Wall, one of our Cisco Engineers, graciously lent his time as a judge, and he was very impressed with the caliber of work showcased by each student.
Congratulations to our winners and to all who participated.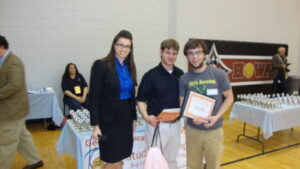 CentricsIT presents Chad with his scholarship