Take 2 minutes to read this article
ATLANTA, February 20, 2018 – CentricsIT teamed up with the Atlanta Community Food Bank to help feed families in need during the holiday season. The Atlanta Community Food Bank is an organization that strives to "End Hunger and Grow Stronger."
More than 750,000 people in the Atlanta area rely on Food Banks to provide food for their families. Volunteers all over the world come together to fight the ongoing hunger that occurs within their communities. There are countless opportunities to help these families in need whether that means donating to a local food bank, sorting and packing boxes, helping at an event, or even cooking the meals that go directly to the families.
With a small donation of just one dollar, the Food Bank is able to provide more than nine dollars to a family for groceries. CentricsIT went on site and volunteered hands-on at the Atlanta Community Food Bank. Employees packed boxes full of food for local families in need.
"Hands-on work such as this really gives us an insight into just how much of a difference we can actually make," said Executive Vice President Jon Hans. "We really enjoyed the work we did at the Food Bank and hope to continue with this organization in the years to come."
With the help of CentricsIT, the Atlanta Community Food Bank made the holiday season just a little bit easier for the countless families in need. Along with the Atlanta Community Food Bank, CentricsIT is a part of many philanthropic events throughout the year. The company partners with The Salvation Army, Junior Achievement, MUST Ministries, and more.
About CentricsIT
CentricsIT helps companies around the world make smarter decisions about their IT spending. We are a global IT lifecycle solutions company that provides strategic, cost-saving alternatives for hardware procurement, maintenance services, professional services, and certified asset disposition. Recognized by Gartner as a leading solutions provider for cost optimization, we help clients around the world improve efficiency and reduce wasteful IT spending by strategically redistributing IT budgets and consolidating data center vendors.
Our expertise spans the entire IT lifecycle, and our commitment to innovation and efficiency is what sets us apart, because at CentricsIT, we see IT differently.
About the Atlanta Community Food Bank
The Atlanta Communiy Food Bank mission is to fight hunger by engaging, educating and empowering our community.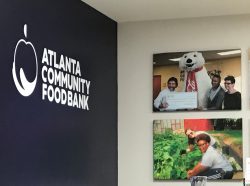 For more information, contact Mandy Glidewell, Director of Marketing.
Press Contact
Mandy Glidewell
Director of Marketing
mglidewell@centricsit.com
(678) 399-5025