Take 3 minutes to read this article
This post was contributed by Mandy Glidewell, Chief of Staff
It's a tradition that harkens back to a different time—before you could order a Thanksgiving meal with your phone, or even your watch; when labor unions were more prevalent and American factories and manufacturing plants were cornerstones of the economy; and before benefits were baked into standard compensation plans—a time when an employer-gifted Thanksgiving turkey was commonplace.
While 23 percent of employers plan to host a Thanksgiving meal or distribute gifts this year, only 3 percent of employers plan to hand out turkeys to their employees, according to a 2017 survey conducted by the Bureau of National Affairs. Among non-manufacturing businesses, that figure drops to 2 percent.
CentricsIT is among that 2 percent.
2017 marks the tenth consecutive year in which CentricsIT executive leadership will give each employee a Thanksgiving turkey. Any other gift or gesture of appreciation to commemorate the holiday has never even been considered.
"We value the personal touch and sentiment that comes along with giving someone a turkey," explained CentricsIT President and CEO Derek Odegard. "Thanksgiving is a time to express appreciation, and we take this opportunity to thank the many people who make countless contributions across our organization."
Many longtime employees look forward to the annual turkey handout and make their Thanksgiving dinner plans in anticipation of the gesture. Nine-year veteran Ty Howard, an Account Manager on the Direct Sales team, brings his turkey to his family gathering every year. "I usually pick a small turkey, and we cook it at my mom's house," he said. "She cooks a big one, but we always eat leftovers, so my CentricsIT turkey is our 'leftovers' turkey."
New employees are often surprised when they learn about the tradition. Toni Render-Short, a Contracts Administrator on the Support Services team who started in August, found out she was receiving a turkey when the companywide email was sent announcing the date they were being delivered. "I was very surprised—that's such a meaningful gift to give your employees," she said. "My previous employers have given me gift cards, but I have never received an actual turkey. It's a very personal gesture." Render-Short plans to deep-fry her turkey and celebrate Thanksgiving locally with her family.
"I sign up the second I get the email every year," Howard added. "It's definitely a meaningful thing—I love it when the company does things like that."
CentricsIT is known among Atlanta's top workplaces and has a reputation locally for having a vibrant culture. In a recent interview with VoyageATL, Odegard described the office environment at CentricsIT:
"We have a very relaxed office environment and generous policies that encourage employees to define work/life balance for themselves. That culture is what I am personally most proud of. Hands down—it's what sets us apart from our competitors in both spaces. Our employees are happy, which leads to better output on behalf of our clients, stronger and more fruitful relationships, and a higher level of satisfaction all around."
By optimizing IT budgets and consolidating data center vendors, CentricsIT helps clients around the world improve efficiency and reduce wasteful IT spending. The company is headquartered in Metro-Atlanta, Georgia and operates globally out of offices in: North Carolina, Toronto, London, Prague, Dubai and Bucharest.
CentricsIT celebrated its 10th anniversary in January 2017.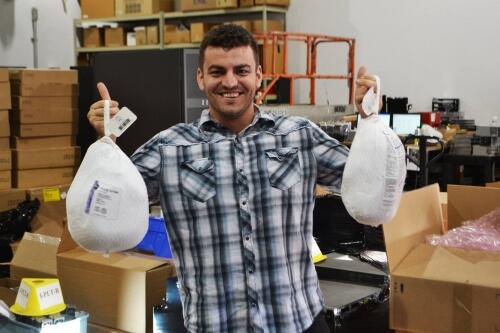 Follow CentricsIT on Facebook to learn more about our outstanding workplace culture. For career inquiries, visit: /jobs/