Take 2 minutes to read this article
Here at CentricsIT, we are your IT experts. When any IT maintenance issue arises in your data center, we are here to help. If there is an error code you can't fix, let us assist you in our monthly FixIT column. This month, we're focusing on the HP error: HPSA1 The HPSA1 error code indicates an issue with the drive controller. This error does not allow the drives to rebuild their logical configurations. HPSA1 isn't necessarily considered a high-risk error code, but when it occurs, it will eliminate redundancy in your hard drives. If one of the main drives goes bad, then nothing will automatically write to the redundant drive. The location of the error is provided by the HP ILO. The ILO will alert you when anything is wrong, and it can also detect any errors that could appear in the future. There is nothing to prevent this error code from occurring, though it is considered rare. Once you have determined the error, here are the necessary actions to take in order to remedy the error.
Power off any operating systems that are running. As shown in the figure below, the user was running VMware with multiple servers on the host box.
After the servers have been turned off, it is now okay to unplug the server.
Replace the cache and/or battery.
Note: The error code will show up whenever there is an issue with the cache or the battery is bad. However, when the battery is bad, it will also indicate its own error code.
After replacing the cache and/or battery, plug in the server.
Turn on the server. The OS will power on as long as the cache has been fixed or the battery replaced,. The drives will then rebuild their correct configurations, which will enable the controller to see the correct drives during the boot process.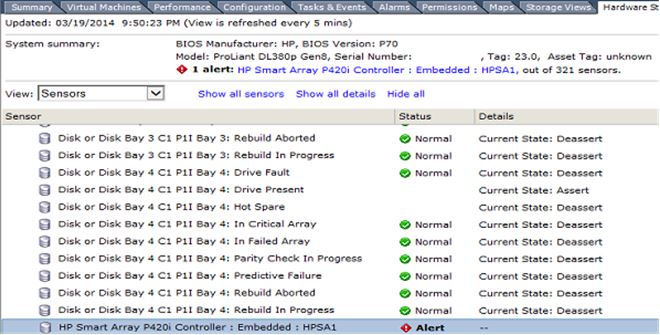 Because this is not a common error, it should only need to be addressed once for the life of the server. If only the cache needs to be replaced and the battery goes bad in the future, you may need to repeat this process to remove the error code.
If you have any further questions about this error, contact our dedicated IT support staff by calling us toll free at 1 (877) 531-7466. CentricsIT offers data center services including data center hardware maintenance and support, and we can help you get the most out of your data center, regardless of its size.