Take 1 minutes to read this article
An Infographic by CentricsIT on Responsible IT Asset Disposition
It's an inevitable step in the IT lifecycle—whether you're refreshing an entire environment, moving to the cloud, or otherwise consolidating
your assets—you will need to dispose of retired hardware. This Earth Day, we invite you to take a moment and consider the environmental impact your organization could make by committing to responsible IT Asset Disposition practices. Did you know that properly disposing of a mere 10 servers reduces more than 800 pounds of CO2 emissions? Or that green disposition of a single laptop is the equivalent of preventing 270 aluminium cans worth of emissions?
More than 40 million tons of e-waste is generated annually worldwide. By partnering with a certified electronics recycler and responsible IT asset disposition service provider such as CentricsIT, you can ensure your retired IT equipment never contributes to this environmental epidemic.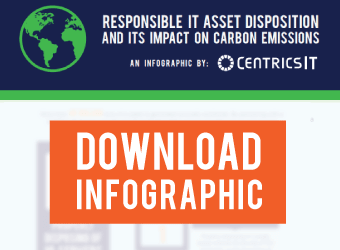 Go Green Today
Fill out the form on the right to learn how to keep our planet clean and your costs down.