Take 3 minutes to read this article
At CentricsIT, we are your IT experts. When any IT maintenance issue arises in your data center we are here to help. If there is an error code you can't fix, let us assist you in our monthly FixIT column.  This month, we're covering the IBM Flex System x240 Compute Node Firmware update that enables v2 Intel Xeon support. x240 compute nodes require an update with the latest Intel Xeon Processor E5-2600 v2 series architecture. The update will ensure increased performance, connectivity and storage options.
To upgrade IBM Flex x240 v1 to V2 firmware, it is necessary to upgrade the blade firmware using the v1 CPU before being able to physically upgrade the FLEX 240 and achieve the full functionality.
Necessary tools and hardware for upgrade:
Flex System Blade Chassis
Flex System x240 Compute Node(s) with V1 CPU
Laptop
Monitor-Keyboard-Mouse Dongle 81Y2889 or Compute Node Console via CMM GUI
Monitor
Keyboard/Mouse
Generic USB drive
IBM Tool Center Bootable Media Creator
Follow these steps:
Insert USB into the front of the x240 compute node
Connect the laptop via Cat5 Ethernet cable to the primary CMM on the back of the Flex Chassis.
Set the IP address on the laptop to a range that will enable connection to the default IP address of the Chassis; 192.168.70.100
Open web browser and point to https://192.168.70.100. The laptop should open the Flex Chassis Management Module GUI.
Select Blade and chose option "Power On" from the "Actions for Node XX" menu. The blade will transfer the output to the monitor connected to the VGA multi-dongle.
Press F12 during the IBM splash screen to interrupt the boot process and boot from the USB stick.
Once the USB boots successfully you will come to this menu.  From here you should select "Updates".
Click "click here to start update"
The IBM UpdateXpress tool will now recommend updates to be installed.  Click "Next".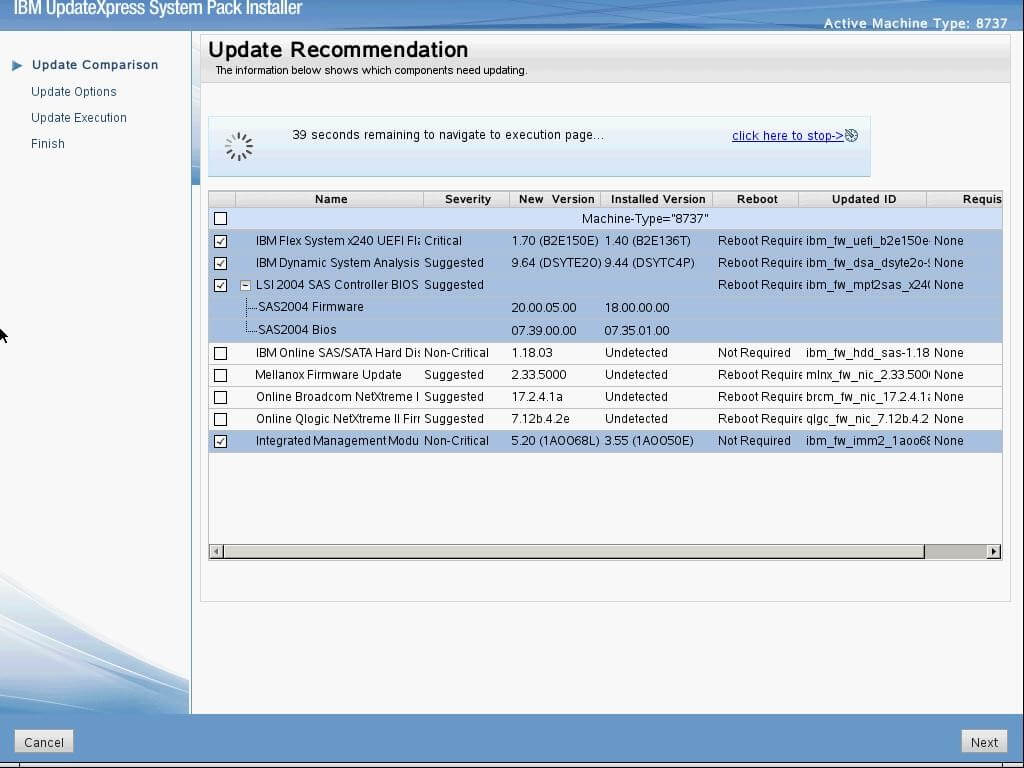 Now just sit back and wait for the updates to install.
Once you have finished the update click "Next" and then click "Finish". The blade will restart and apply the firmware updates.  (The DSA was not updated in this instance.)
The Flex blade is now updated and now fully capable of utilizing V2 Intel Xeon CPU's.
After this update, companies now can improve efficiency, optimize heterogeneous environments, increase speed, and improve control through simplicity, automation, compliance, and security. If you have any further questions about the IBM Flex x240 v1 to v2 firmware update , contact our dedicated IT support staff by calling us toll free at 1 (877) 531-7466. CentricsIT offers data center services including data center hardware maintenance and support, and we can help you get the most out of your data center, regardless of its size.