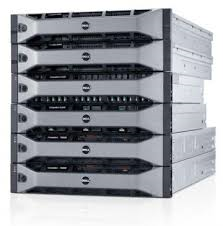 New, Used and Refurbished Dell Compellent Storage (Legacy)
The Dell Compellent storage line began in 2011 after Dell acquired Compellent Technologies. It became known as the SC series before being succeeded by the consolidated Dell PowerStore platform. The Dell Compellent line combines the innovations of Compellent with the best of technologies from itself and other companies it has acquired to create an exceptional product. CentricsIT sells both used Dell Compellent storage devices and parts to maintain, refresh, and repair older environments.
Dell Compellent Storage (Legacy) – In Stock and Ready to Ship Worldwide
Dell Compellent offers automated tiering that keeps relevant data easily accessible through a process called Data Progression. Its Fast Track process also aids automated tiering by ensuring optimal placement on data based on use and relevance. Its RAID system helps keep data safe from [corruption]. Its Fluid Data Architecture aids in data virtualization, and a dynamic block architecture manages data at a granular level. Dell Compellent Data Instant Replay creates snapshots of changes in data to prevent loss and corruption. Because only changes in data are recorded, these replays make the most of storage capacity.
CentricsIT Carries New, Used, and Refurbished Dell Compellent Storage (Legacy)
CentricsIT is a leading international distributor of used and refurbished Dell Compellent storage devices. Whether you are looking for a newer model or a legacy Dell Compellent storage device to fit your current environment or another line entirely, CentricsIT has the hardware you need. With our in-house engineers, CentricsIT can configure your used Dell Compellent storage device so that it is ready to deploy upon arrival.
Like other CentricsIT products, used Dell Compellent storage devices save businesses 40–70% versus traditional distribution channels. Because CentricsIT keeps more than $10 million of inventory in stock, most quotes can be configured and shipped worldwide within 24–48 hours, eliminating OEM lead times, and with our in-house customs brokers, the hardware arrives anywhere in the world without unnecessary delay. If you do not see the model you want, contact us! Not all of our inventory is featured on our website.
Dell Compellent Storage (Legacy): Models and Configurations (New, Used, Refurbished Options)
Popular Models and Configurations
Dell Compellent Flash Optimized Solutions
Dell Compellent SC280
Dell Compellent SC8000
Dell Compellent FS8600
Speak with an Expert
Looking for Pricing Details?
Contact our team of Dell Compellent Storage (Legacy) experts by submitting the form below.
Meet Our Global Product Team
Experts in Secondary Market Hardware Sourcing