Take 2 minutes to read this article
At CentricsIT, we are your IT experts. We are here to help with any IT maintenance issue that arises in your data center. If there is an error code that you can't fix, we can help in our monthly FixIT column. This month, we're covering the IBM error code: B150F22A.
You are likely to encounter this error when connecting and powering on a 16-way, two-drawer IBM 9116-561 server.
FixIT:
Checking the Error Log Through the A.S.M.I. (Advanced System Maintenance Interface)
• Select "System Service Aids "option from main menu by clicking the + sign.
• Select "Error/Event Logs" option from drop down.
Two related error codes logged are:
1. 508FF44B
CEC Hardware Subsystem
Unrecoverable Error
SRC = B150F22A
2. 508FF402
CEC Hardware Subsystem
Unrecoverable Error
SRC = B150F22A
Result
Priority: Mandatory, replace all with this type as a unit
Procedure Number: FSPSP01
This procedure calls for a replacement of the service processor, but first check to see if either drawer has actually been deconfigured.
• Select "System Configuration" from left main menu options.
• Select "Hardware Deconfiguration" option.
• Select "Processor Deconfiguration" from the drop down choices.
Select each processing unit to identify any deconfigured processors.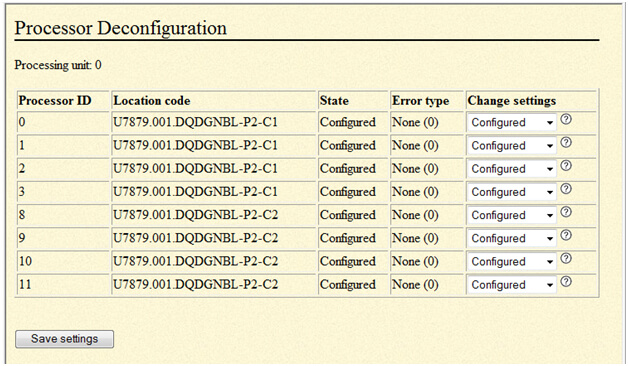 Although the error clearly points at the service processor, the description "not enough functional nodes" indicates that the flex cables could be a potential cause, given that both drawers appear to have all 16 processors set as configured.
Because the error relates to the service processor, focus on the rear flex cable feature code 1857. This feature comes in a variety of part numbers but the CCIN should always be 185D. Always check all the pin connections to ensure that none are bent.
If a basic reseating of the processor books and re-IPL of the system reveals that all nodes show as configured, you can conclude that the error code was a "ghost" and disappeared when the hardware aspect of the configuration was reset by reseating the CEC cage components.
(B1xx) Service Processor Firmware Reference Code Descriptions
If you wish to determine if the SRC requires a service action or is for tracking purposes only, see (B1xx) Service processor firmware reference codes for instructions.